Arm yourself with fresh verified SEO data with
WEB ANALYTICS APIs
Rely on Kwinside technology to collect massive amounts of web analytics data.
Availability
Fresh data is available straight out of the box
Try Now
Scalability
Conduct professional SEO analysis of any complexity
Choose Package
Integration
Connect APIs to your interface with ease
Subscribe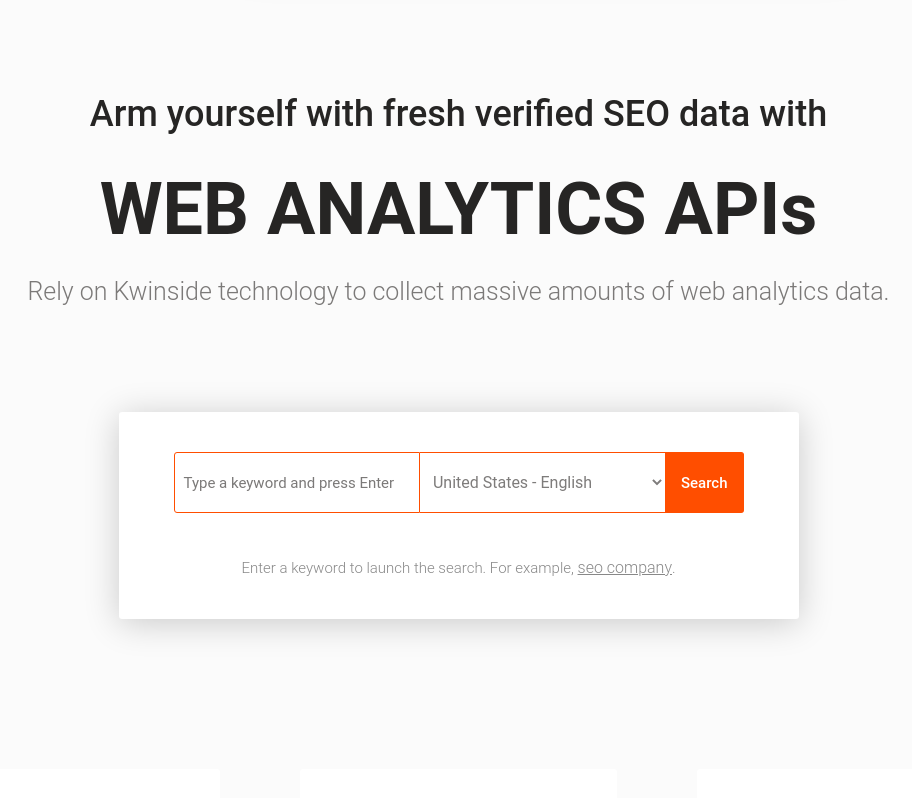 Multiple APIs
Dig into profound insights with keyword research, Google SERP data, and competitor analysis.
Fresh data
We collect, process, and deliver data in real time.
Data volume
The Kwinside infrastructure allows us to store and process data on billions of domain names, keywords, and positions.
Smooth integration
Use Kwinside APIs with any interface of your choice.
Clear documentation
Follow clearly stated documentation on how to use our APIs.
Affordable plans
We have plans for all business needs and sizes.
Bringing integration-ready SEO APIs to the table
Kwinside APIs are the only missing elements in your complete SEO arsenal. Designed to simplify automated data analysis, they help you transmute tons of information into readable insights. We did our best to cram extensive SEO expertise into these APIs so that you can take your services up a notch. Enjoy!
APIs that make your efforts actionable
We're happy to share our tried-and-tested know-how in a bid to facilitate your SEO data aggregation. With 3 APIs for keyword research, SERP insights, and competitor analysis, you can save tons of time on once-manual work. Embed our technology into yours and see how simpler all things data research can be.
Keyword research API
From now on, you can map out a better-planned targeting strategy for your customers. Based on an extensive database, Kwinside Keyword Research API is teeming with valuable metrics and up-to-date insights. Here's what its functionality enables you to do:
keep tabs on keyword suggestions so that your customers can cover more queries
analyze search volumes for the given keywords
make sure your customers are targeting the keywords that people are searching for
With this API, it's a cinch to retrieve suggestions for short- and long-tail keywords. It'll take you only a few moments, whether you need to semantically combine a pool of queries for a homepage or product categories. Identify the main phrases to be targeted on landing pages or highly specific ones that will better find their way into blogs. We've already done the hardest coding part, so you don't need any profound technical knowledge to get started.
Do you serve customers all over the globe? You'll love our Keyword Research API as it allows you to look at suggestions in multiple languages. Its filtration parameters can be easily set to extract thousands of keyword ideas in English, German, Italian, Spanish, French, and even Russian. Yep, it's a boon to multilingual websites.
Monthly request limits for all our APIs, including this one, depend on the package you're using. However, we won't mind you giving it a test-run to get a handle on its functionality. Check it out with 20 free hits per day!
SERP API
If you're still trying to extract data from the search engine results page manually, you're taking quite a rough guess. Unfortunately, doing so single-handedly increases the risk of getting skewed results.
Not with our SERP API, though. It's designed to embrace automation technology in retrieving insights from search engine results with surgical precision. No more guesswork when performing data analysis to enhance your SEO services!
Kwinside SERP API is packed with goodies, allowing you to:
get a list of keywords that a domain is already ranking for on the SERP
retrieve keywords and their SERP positions for any domain
monitor how many pages are featured in SERP TOP-1, TOP-3, TOP-10, TOP-30, TOP-50, or TOP-100 for the given date
get a list of pages in SERP TOP-1, TOP-3, TOP-10, TOP-30, TOP-50, or TOP-100 for the given date
analyze data on the top search engines for any website
For your convenience, the SERP API is up for customizable results. When searching keywords and their positions, you can sort them by increased/decreased rankings, those that have shown up in the TOP for the first time, and way more. It's a great option to have at your fingertips when tracking your SEO efforts over time.
In addition to making integration a breeze, our SERP API brings cost-efficiency into your services. Select a wallet-friendly subscription plan that meets your business needs and beef your products up with accurate SEO data!
Competitor intelligence API
Can't make heads or tails out of how your customers' rivals have gained the upper hand? There's never been a better time to take a sneak peek at their SEO doings. Get your hands on Kwinside Competitors API to help your customers' websites outmaneuver their opponents once and for all.
With our Competitors API, you can:
view how many websites compete with your customers in TOP-1, TOP-3, TOP-10, TOP-30, TOP-50, and TOP-100
get a list of these websites (domains) and keyword statistics
find out what keywords they're using
spy on their SERP rankings
A well-rounded competitive analysis paves the way for a precisely targeted keyword strategy. And this is the first thing your customers expect you to handle. After accessing this API, you will get well up on niche-specific keywords that the industry's heavyweights use to drive traffic to their websites. Then, you can pinpoint those that match your customers' needs and incorporate them into their blogs, ad campaigns, and everywhere in between. A laser-focused keyword strategy wouldn't go amiss.
Time savings? They are huge when you leverage this API to spy on competitors. By minimizing manual work and hassle, it empowers you to hone in on developing your services to provide more value for your customers. Make sure they can benefit from well-researched competitor data and personalized SEO solutions from your agency. No one loves cookie-cutter services. Make yours more customer-centric with Kwinside Competitors API!
Subscription plans for all occasions
Getting accurate SEO data and statistics shouldn't be a costly process. Plus, you don't have to pay for the functionality that you're not using.
That is why Kwinside offers you freedom of choice. Here we've got 3 subscription plans (Basic, Pro, and Business) for each API. Whether you represent a small agency or a gigantic SEO hub, there's a perfect package for you.
Once you've selected the plan that works for your company, don't wait any longer to put our APIs into action. They are highly intuitive and easy to use. But our support team is still there to have your back if needed.